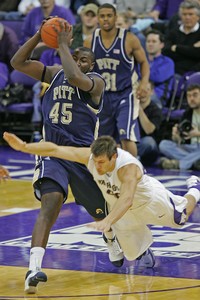 DeJuan Blair, a 6'7 power forward for the University of Pittsburgh, was the Big East Freshman of the Year this past season. The stud big man helped lead Pitt to a Big East Tournament Championship as well as a four seed in the NCAA Tournament. The Panthers had a solid season in 2007-2008, going 27-10 and reaching the second round of the NCAA Tournament, before being defeated by the Michigan St. Spartans. DeJuan Blair was a key member of Jamie Dixon's squad, despite being a rookie at the NCAA level. At the Pitt Jam Fest, I caught up with the Big East superstar.

NB: So, you guys had a big season this year. What was it like for you to go . . . and win the Big East Tournament?
DB: It was a big step up . . . for us because [of] all our downfalls during the season, and we just came back, we popped back as a team, and everybody came together and we did an excellent job on that.


NB: Did [the team] pay any attention to Bobby Knight picking you to win [the NCAA Tournament], or was that not you were even bothering to think about?
DB: No, it was . . . nice, but obviously we [did not] take it up, but that was nice that he did it, but we just . . . got to come back harder next year.

NB: What do you think the team will be capable of accomplishing next season?
DB: A lot of things, [with] everybody coming back, and plus the recruits we [are] getting in. We [will] just keep working hard. . . . I believe they picked us to be third in the nation, so that's a big honor for us, so we just got to keep going.

NB: How did you decide on Pittsburgh?
DB: [I] just [wanted] to stay home. . . . Why not play DI at the highest level at home?

NB: Do you have any goals for your college career, things that you want to accomplish personally or team-wise?
DB: Hopefully one day get the Player of the Year in the nation, and the obviously get a National Championship.

NB: Are you planning on staying [in college for] all four years [of your eligibility]?
DB: Hopefully I do, but if anything comes together, that would be great.

NB: What was it like for you guys to go down to Madison Square Garden this year and beat Duke on . . . such a big national stage?
DB: Oh, that was fun. Just doing that, and [having] everybody watching. It was . . . a huge game, and I came up big in that [with] 20 rebounds [and] 15 points. It was good, playing against them, [a] high-major team, that was excellent.

NB: How were you able to perform so well this season as a freshman?
DB: Just coming in and playing my game. That's just me, I didn't look at it [as] being . . . a freshman and all that, it was just me.

NB: What do you consider to be the strongest point of your game? DB: Rebounding. NB: What about your biggest weakness, that you'll have to work on?
DB: Shooting.


DeJuan Blair is destined for success in his remaining time at Pitt. Assuming he does stay for three more seasons, the big man has a legitimate shot to win National Player of the Year and also lead the Panthers to an NCAA title. Although Blair may never been considered a top-notch NBA prospect due to his height, his pure talent and rebounding ability will likely land him on an NBA squad. In addition, Blair is a genuinely nice guy, and that is something that NBA coaches are going to like about him. The League may be a long way away for DeJuan Blair, though, as he's got three years to accomplish his goals as a Pitt Panther.
Note- photo is from

http://www.philly.com/