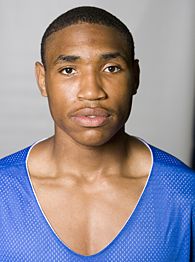 Kevin Jones is a senior forward for Mt. Vernon (NY), and he is also one of the top players in the state of New York. Jones is a 6'7 forward with a sweet all-around game. Being one of just three seniors on his squad, Jones is a player who does whatever it takes to pick up a win. After his team just barely knocked off Roman Catholic on February 9th, Kevin took some time to speak with me.
NB: You guys had a big win out there today [in] a really close, hard-fought battle. Going down the stretch, it was a real close game, how'd you guys pull through in the end and get the victory?
KJ: Well, we knew we were coming in for a great game today. Our coach told us everybody had to play [well]. Everybody made a lot of contributions today, and I'm proud of the way everybody played, [we] came in and played hard, and we're going to the playoffs now, so that's definitely a great win going into the playoffs.
NB: You had 16 points in the first quarter [then] kind of tailed off a bit in the second quarter. In the second half, you really picked your game up. How'd you maintain focus for the second half after that rough second quarter?
KJ: Well, . . . [my] teammates started stepping up and scoring, so I fell back and let them do some of the scoring and [such], but . . . in the second half, . . . whenever we need a basket I always try to give whatever my team needs, so that's what I tried to do in the second half.
NB: So it's easier playing when guys like Sherrod Wright are stepping up?
KJ: Yeah, definitely. He makes my job a lot easier. When they double me [I can] just kick it out to him, and he drives to the basket and hits the shot. . . Jabarie [Hinds], everybody played great. Everybody made a lot of contributions, so it was a good win.
NB: Going into the early signing period, you were one of the top uncommitted players in the country. [At] your press conference, you chose West Virginia. What went into that decision for you to go play in the Big East for Bob Huggins?
KJ: Well, . . . I went up there for a visit and I just liked everything about it. I liked the direction that the program was going in. I like Coach Huggins. . . . He has a reputation [for] players at my position, they call us tweeners, . . . for getting them better, so I'm just looking forward to getting better, [and] playing in the Big East competition every night.
NB: You mentioned the word tweeners. What do you feel when someone calls you a tweener? . . . Different people associate that different ways.
KJ: It doesn't matter to me if somebody me a tweener. I just call myself a basketball player. I go out there and play basketball. Whatever coach needs me to do, I go out there and do it. So, I just call myself a basketball player.
NB: With this being your senior season, what do you want to accomplish this year personally and team-wise to finish off the year?
KJ: Well definitely, I want to make it through [the] playoffs, go out an win everything my senior year. I'm just looking forward to . . . finishing my senior year off with a championship. If I do that, every other thing will fall in place. So, that's what I'm looking forward to doing.
NB: [Do you have] any goals for college yet, or [are you] just trying to finish up high school, enjoying your senior year?
KJ: I'm just finishing up high school. I'm going to take all that when it comes.
The fact that Jones is not worried about what others call him or his position is an impressive attribute. Many players, especially amatuers, let those around them influence what they think and how they act. Kevin does not fall into that mold, which makes him a special player. As he said, you can call him a tweener, but he's just a basketball player, and by the way, he's a great player.
Note- photo is from
http://espn.go.com/